TOP
Blog

Back
Our favourite things to do 'in between' seasons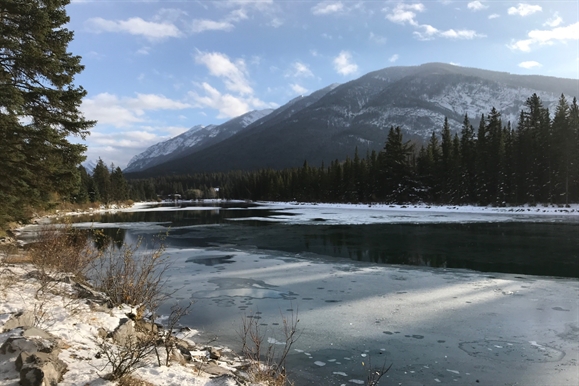 As we transition seasons staying safe is still our priority at Charlton Resorts. We understand that this is important to our guests too. Rest assured we are dedicated to ensuring you have a memorable, enjoyable and comfortable stay with us, all the while following health and safety Covid-19 recommendations.
Locals in Banff call this time of year 'shoulder season'. Traditionally it is a quiet time for tourists and usually the weather is stuck somewhere between fall and winter. Many are eagerly awaiting the opening of the ski hills (so far scheduled for early November) and others are mourning the loss of summer hikes, but getting amped up about winter snow shoeing!
It's the time of year where you might need a warm coat, boots and a toque in the morning, but come afternoon, you're wearing a t-shirt in the warm sun. Now is a great time to spot Elk around Banff. They are in the mating season, so be sure to give them a lot of extra space while getting your photos from a distance.

Cooler temperatures and shorter days often make us think about comforting food. This is definitely one of the best times of the year to dine in Banff. This year from October 12 - November 13, many restaurants in town are participating in Banff's Taste for Adventure, including our very own Evergreen Restaurant. This special month long event features exclusive menus, unique dishes, and irresistible specials in honour of the Taste for Adventure celebration. Our restaurant is featuring a delectable three course menu with choices to suit all tastebuds, check it out here.
I'll leave you with a few other ideas of favourite 'shoulder season' things to do.
Whether coming to Banff is something new for you, or something you look forward to each year, we thank you for visiting and staying with us.
We value each and every one of our guests and strive to make your stay with us unmatched in service and quality. We hope you take some time to enjoy the peaceful beauty while experiencing some of the incredible offerings that make Banff so unique.
Sincerely,
Alicia Charlton
Charlton Resorts

Back
Recent Posts
The season of sunshine and warmth is here in Banff National Park. One of the best ways to experience Banff National Park this summer will be to plan ahead.
If the time is right for you to visit and explore Banff we have some great ideas and offers to help with your plan.
Prev Post

"Wonderful stay in Banff...."
"This hotel is in a great location. It is about a 10 minute walk into the shopping area in Banff. There are sidewalks all the way. We had a lovely corner room - the hotel was a very quiet place to stay. The staff at every level were polite and accommodating. There is underground parking. Lots of good places to eat within walking distance. Definitely on my list of great places to stay in Banff!"
- Kathy A.
"Excellent"
"This is our fifth stay in this hotel over the last several years. We always enjoy our stay here. It's nice and quiet and comfortable. We had a king size room with fireplace and it was great. One thing that we really enjoy about this hotel is there swimming pool hot tub and steam room. It is absolutely beautiful in their pool area. It's one of the best ones we've been too. The food in the restaurant is also very good. We definitely will be back again next year. "
- Robert T.
"Excellent"
"The rooms were so nice. We stayed at a very famous luxury hotel the night before and our room at the Royal Canadian Lodge was much nicer for less than half the price! I will definitely be staying here again!"
- Bryce B.
"We'll be back!"
"Our first trip to Banff and we are so pleased we stayed at The Royal Canadian. Heated, covered parking with your window cleaned every morning is representative of the small touches that separate this from other places. Hot cocoa and cookies every night in the lobby were the perfect ending to busy days. With John at the front desk, Jakob and Dillon as concierges, Rachel and Amber as servers, you're in great hands. No question went unanswered, down to how the most excellent rolls were made in hous"
- John C.
"Fabulous Stay"
"Stayed 4 nights. Great hotel. Friendly staff. Apples and oranges out for guests to enjoy, also hot apple cider. Pool, hot tub and steam room very nice. Thoroughly enjoyed it. Rooms cheaper then Moose Hotel which is a basic 2*. Even with parking at $15 A night. Still cheaper. Pros - beds, sheets, towels- wonderful. Spacious room. Easy access to downtown and all sights. Concierge Jorden and Spencer were wonderful."
- Mingxue