TOP
Blog

Back
COMMITMENT TO HEALTH & SAFETY
December 31, 2020
In light of recent enhanced and ongoing public health measures announced by the Province of Alberta, we have made the following changes in our operation:
Dine-in services at restaurants, lounges and cafes is not permitted. As a safe and convenient in-room dining option, the Evergreen Restaurant which is located at our affiliate hotel Royal Canadian Lodge (1/2 block away) is offering room delivery to Charltons guests while they are in house.
Some other changes we would like to make you aware of as you plan your trip:
Masks are required in all public indoor spaces in Banff as well as in the designated outdoor area of the Town of Banff which includes all of Banff Avenue, Bear Street and Lynx Street. This includes when entering the lobby, elevator and when picking up orders at the restaurant. https://banff.ca/COVIDmasks
Social Distancing will be practiced in the lobby and throughout the hotel with indication markers in place.
Hand Sanitizers are available in the lobby area for guests as they enter and exit the hotel.
The pool, hot tub and steam room are closed until further notice.
We have increased frequency in cleaning and sanitizing in all public spaces with special attention to high-touch surfaces.
Housekeeping Service will be offered for guest rooms staying more than 3 nights. Servicing will be completed while the room is vacated to allow for physical distancing.
Coffee & Tea in room amenities are available upon request only.
Screening for symptoms will be done at the beginning of each shift for our team members prior to starting work.
We ask that guests who have recently travelled outside Canada or are returning to Canada complete any self-isolation period before arriving at Charltons Banff.
If you exhibit any symptoms of Covid-19 or have recently been in contact with anyone you know that has been diagnosed with Covid-19, please cancel your reservation. We will look forward to welcoming you at a later date.
Thank you for helping us keep our guests, our employees and our community safe and open in these uncertain times.

Back
Recent Post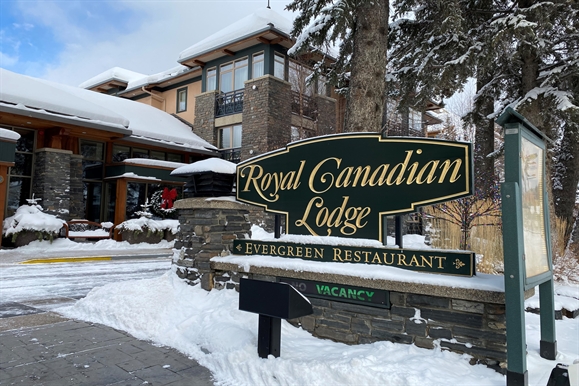 If the time is right for you to visit and explore Banff we have some great ideas and offers to help with your plan.
Summer has left us and fall only stayed for a couple of weeks. Now we are faced with early snow and cool temps... but beautiful scenery! Finding things to do in this 'shoulder season' can seem daunting, but it's actually a great time to experience many unique activities, great dining and scenery.
Prev Post
Next Post


"Wonderful stay in Banff...."
"This hotel is in a great location. It is about a 10 minute walk into the shopping area in Banff. There are sidewalks all the way. We had a lovely corner room - the hotel was a very quiet place to stay. The staff at every level were polite and accommodating. There is underground parking. Lots of good places to eat within walking distance. Definitely on my list of great places to stay in Banff!"
- Kathy A
"Excellent"
"We were very impressed by the cleanliness of the hotel and our room. Anonymous Guest Oct. 2020"
- Guest
"Excellent"
"The rooms were so nice. We stayed at a very famous luxury hotel the night before and our room at the Royal Canadian Lodge was much nicer for less than half the price! I will definitely be staying here again! Bryce Alberta Oct. 2020"
- Bryce
"Fabulous Stay"
"Stayed 4 nights. Great hotel. Friendly staff. Apples and oranges out for guests to enjoy, also hot apple cider. Pool, hot tub and steam room very nice. Thoroughly enjoyed it. Rooms cheaper then Moose Hotel which is a basic 2*. Even with parking at $15 A night. Still cheaper. Pros - beds, sheets, towels- wonderful. Spacious room. Easy access to downtown and all sights. Concierge Jorden and Spencer were wonderful."
- Mingxue
"Excellent"
"This is our fifth stay in this hotel over the last several years. We always enjoy our stay here. It's nice and quiet and comfortable. We had a king size room with fireplace and it was great. One thing that we really enjoy about this hotel is there swimming pool hot tub and steam room. It is absolutely beautiful in their pool area. It's one of the best ones we've been too. The food in the restaurant is also very good. We definitely will be back again next year. "
- Robert November 2020